We understand the importance of streamlining inventory management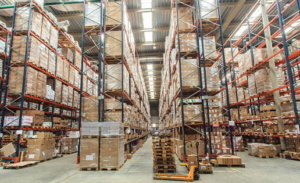 With a large percentage of our customer base in the warehouse distribution market space, we have developed a lot of specialised knowledge in this field.  From business with 100 inventory lines, to 1,000,000+ inventory items, Ostendo is a great solution.  Ostendo inventory software adresses the challenges your business may be facing with managing your inventory, purchasing and warehouse management.
The importance of optimising your inventory is paramount to enhancing your customer service.  Maintaining the right stock levels ensures accuracy and timeliness of delivery.  Accurate purchasing decisions also helps reducing the amount of cash-flow you have tied up in excess stock on your shelves.
We have prepared a table of some of the common challenges faced when managing your warehouse and inventory.  The table describes the features of Ostendo that address these issues.
Business Challenge
Ostendo Solution
Benefits
Inaccurate Inventory



Transparency of stock across multiple locations
Inventory forecasting based on:

stock demand
sales history
seasonal factors

Multiple Warehouses
Multiple bin locations
Full stock traceability:

Serial Number tracking
Lot Number tracking
Batch Tracking
Expiry dates
Revision Numbers



Maintain stock proper stock levels and visibility. This ensures you have the right stock levels to deliver accurately and on time.


Stop the build up of obsolete stock


Keep the cashflow in the right place....your pocket.


Accurate inventory data to improve the picking and despatch process


Up to the minute knowledge of stock on hand at each location.



Poor purchasing practises and processes

Inventory forecasting based on:

stock demand
sales history
seasonal factors

Maintain stock proper stock levels at the right time


Stop the build up of obsolete stock


Keep the cashflow away from inaccurate purchases

Managing complex pricing for different customers and products

Pricing levels


Quantity break discounts


Audit trail of price changes by user

Have a better understanding of your profitable customer and how to price your products.


Maintain price integrity as your costs fluctuate



Accurate Order Taking



Multiple methods to create order lines:



drag & drop
pre-defined lists
historical sales and more

Lines on quotes can include different line types:



Inventory
kitsets
supplier catalogues




Faster data entry and reduction of errors through mis-keying



Optimizing picking of products

Barcode scanning


Warehouse optmization through proper stock location management


Ability to offer alternate products


Visibility of superceeded products







Improvement of speed from order receipt to despatch.


Improved customer service and confidence

Difficulty keeping track of customer pricing



Ostendo has the ability to maintain complex pricing structures.


Many pricing options exist such as:



unlimited price levels
discounts and special pricing on customers, products and many other variations
discounts with expiry dates for special promo's




Accurate customer pricing and invoicing.

Would like to be come a paperless warehouse/distribution business



Ostendo has a large range of wireless/paperless mobile functions


Mobile functions include:



Sales quoting & order capturing
Quick invoice creation
Dispatch and receipting of goods
Stocktakes


Full range of customer data capturing options for people out in the field - mobile sales etc.




Improve speed and accuracy of information flow and processing from quote all the way through to delivery and invoicing